The Daily Digest, 07Jul2020
Georgia COVID-19 Updates
Testing
Testing bounced back today to what it has been in recent weeks. There were 20,723 new tests reported (PCR + antibody) and 20,499 were PCR. Below you can see how today's testing output compares to recent days and weeks. The red dotted line is the 7-day moving average that allows us to see the trend.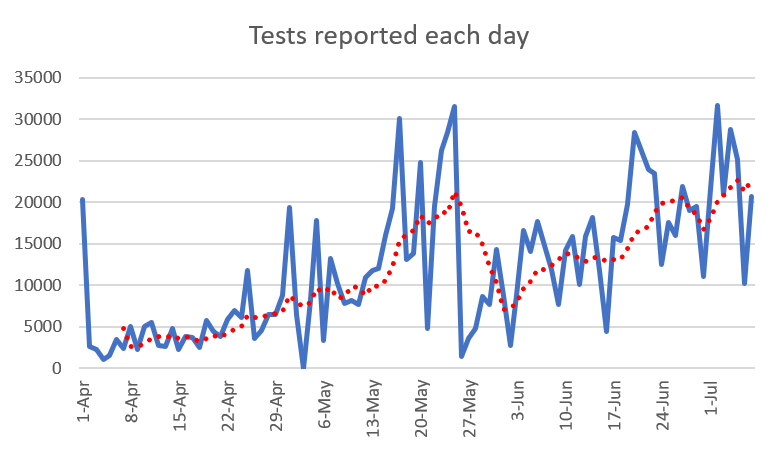 Not to give away the big news from the cases section, but 3406 of the PCR tests were positive. So today's positive rate was 16.6% of all PCR tests performed. That's more than 3 times higher than the threshold we need to meet in order to achieve containment for this virus (not a good thing). You can see how today's positive rate compares to recent days and weeks.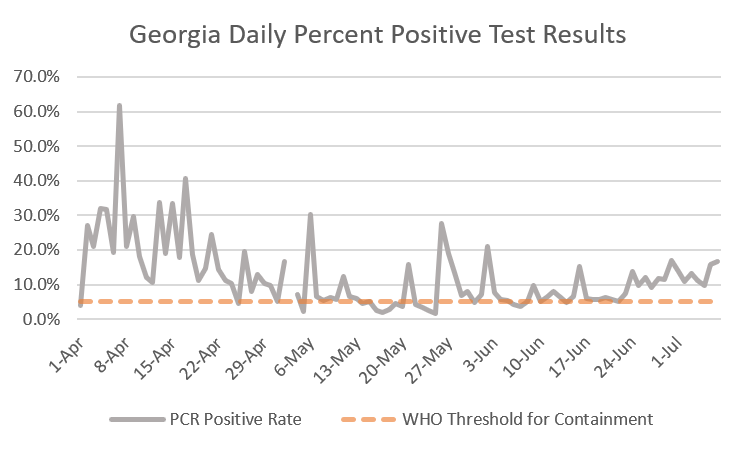 ---
Cases
As I mentioned above, there were 3406 new cases, which is just below our record of 3472 (set on 02Jul). Today we passed the ominous milestone of surpassing 100,000 cases. The new statewide total is 100,470. Below you can see how new case reports have varied by day with significant increases over the past couple of weeks. The red line is the 7-day moving average, to allow us to see the trend.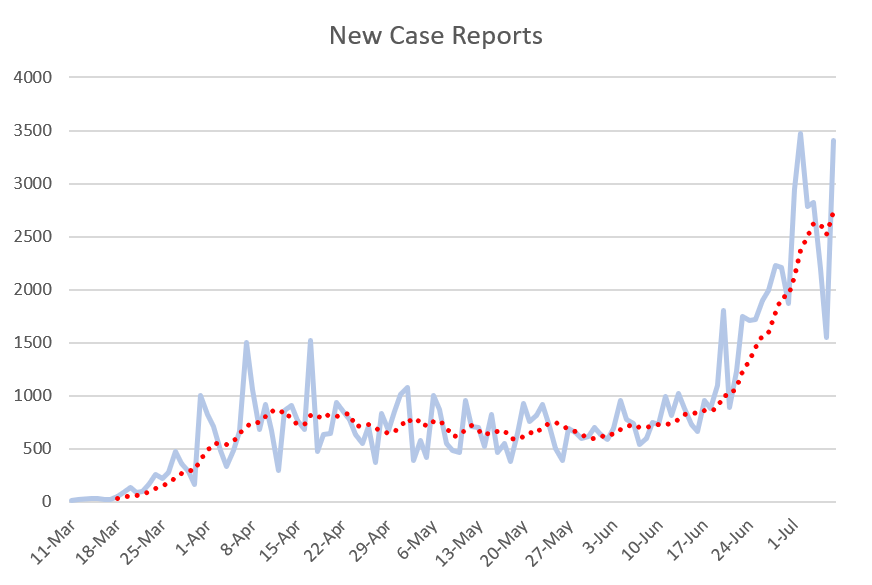 1065 of today's new cases came from nonrural counties that aren't part of Atlanta or its suburbs. 713 came from rural counties. 680 came from the Atlanta suburbs. There's also been significant increases in the non-Georgia resident population (+714 or 11.8% more than yesterday) which includes a mix of people such as migrant workers, immigrant detainees, federal prisoners, residents at Veterans Affairs nursing facilities and military families living on military installations. Below you can see the rate of 7-day increase for each county across the state. The darker the color, the larger the increase.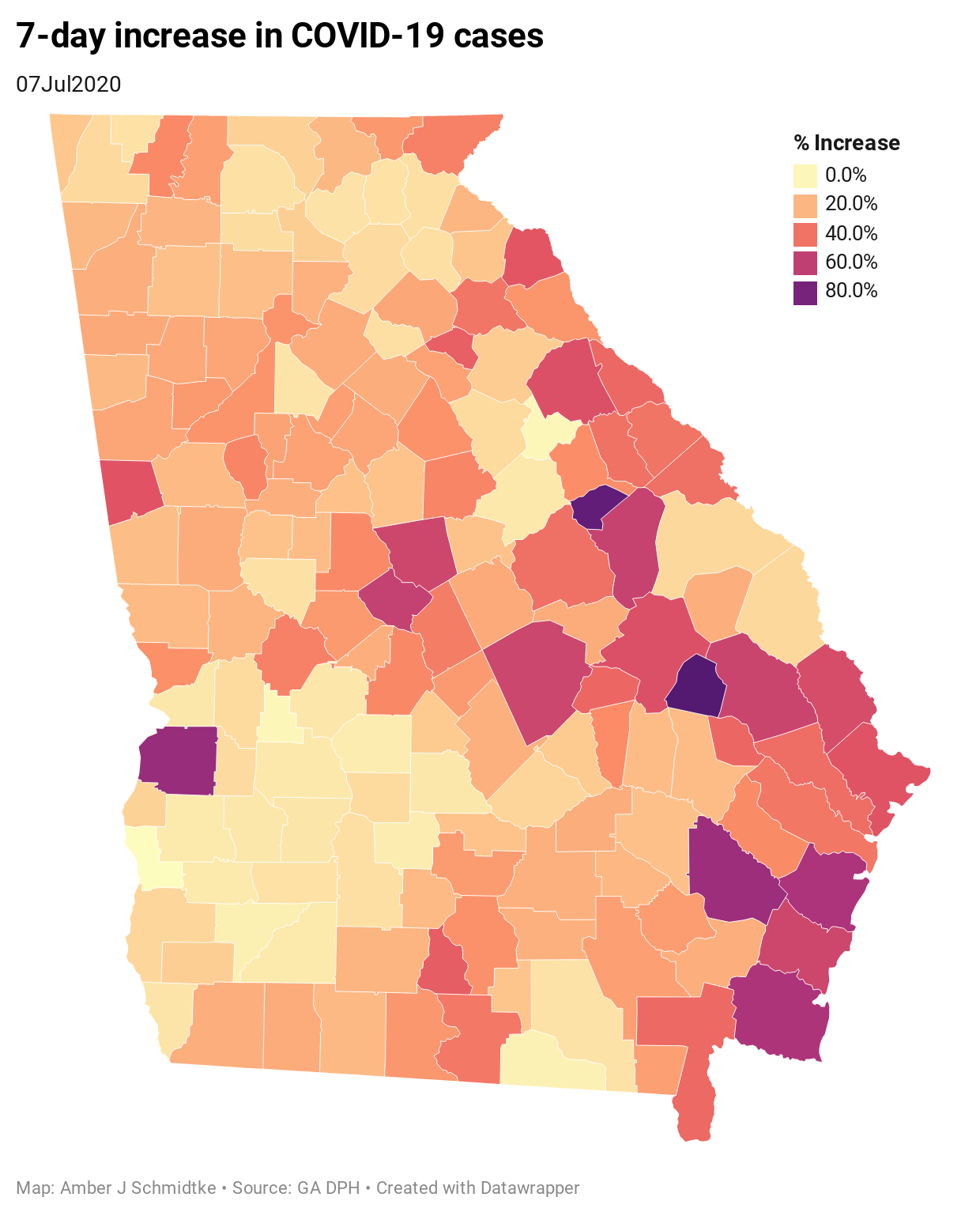 Here's the list of some of the top counties of concern. There are 28 counties that have a >50% 7-day increase AND a >5 % increase. A few counties (highlighted in tan) are in a "grace period" in case they had a low testing output day.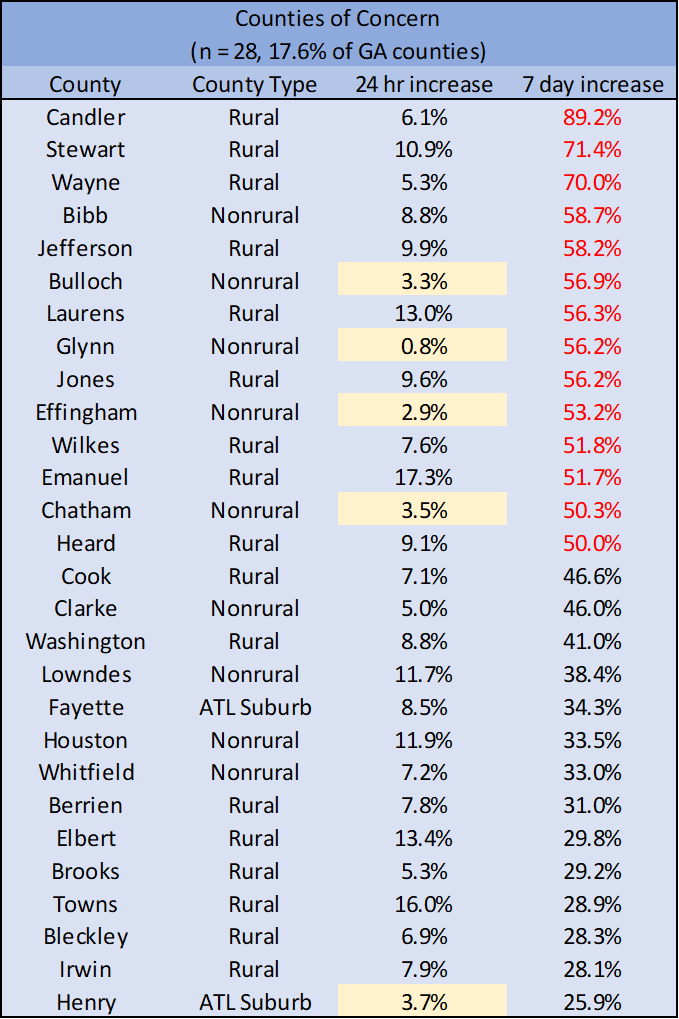 One thing that strikes me is how many rural counties are on the list. Also, there are two Atlanta suburb counties now (Fayette and Henry). When we talk about hospitalizations, many of the counties on the list are in hospital regions that have very few critical care beds available as of today.
---
Hospitalizations
There were 307 new COVID-19 hospitalizations reported today across the state. In terms of current hospitalizations, there are 134 more people hospitalized today than there were yesterday. As has been the case everyday for the past week, this is the highest number recorded to date. Below you can see how current hospitalizations have changed over time.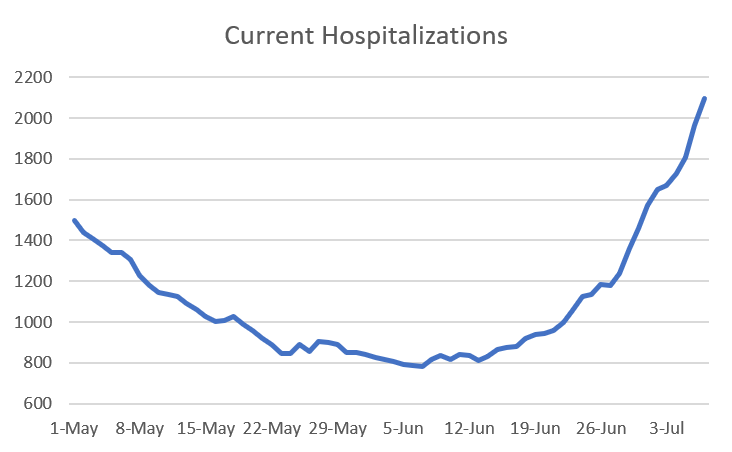 The timing of the surge in hospitalizations has more or less matched the timing of the surge in cases, telling us that the surge in cases is not just identifying a lot of asymptomatic people through screening. We are identifying a lot of people who are sick and need advanced care.
Below, I've provided the second page of today's situation report from the Georgia Emergency Management Agency. I wanted to highlight a couple things. First, on the top, 82% of our critical care beds (also referred to as ICU beds) are in use. Not all of these are used for COVID-19 patients right now, but given our surge in cases and hospitalizations, seeing only 18% of those beds available across the state is a bit troubling.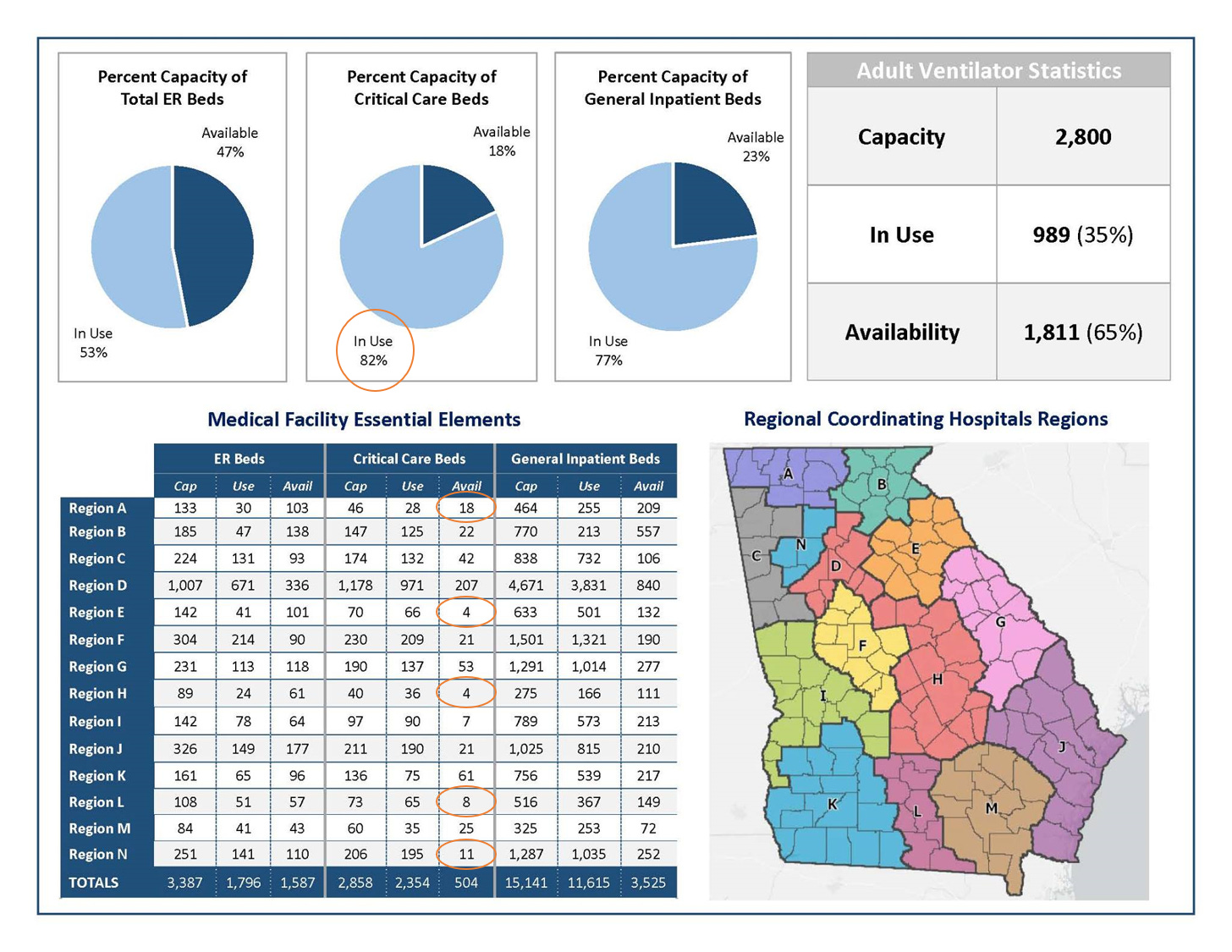 Next, look at the chart on the bottom left. Regions E and H have long suffered from limited critical care bed availability, from the beginning of the pandemic. In fact, the governor relocated 80 beds to Milledgeville two weeks ago. Milledgeville straddles regions E and H. But now we are seeing strain in other areas that aren't normally impacted by these limitations. Regions A, L and N are also under 20 critical care beds available and some of these regions have counties with large 7-day increases. The last thing to highlight in this graphic is that 35% of the adult ventilators in the state's inventory are in use right now. That's also the highest number recorded since GEMA began providing those details.
---
Deaths
There were 21 deaths reported today, a medium-low day for us. Nine of these deaths came from nonrural counties that aren't part of Atlanta or its suburbs. Of those, a third were in Houston county alone (where I live). The statewide total is 2899.
---
Media
This past Sunday, I was co-host on the program Gospel Gothic on 100.9 The Creek. Click here to listen to the episode with Reverend Jake Hall.
Yesterday, I spoke to Beth Galvin at FOX 5 Atlanta about the recent surge in cases. Click here to see the segment.
---
References
https://dph.georgia.gov/covid-19-daily-status-report
https://gema.georgia.gov/document/document/georgia-covid-19-sitrep-7-7-2020/download