The Sunday Week in Review, 17-23Aug2020
Georgia COVID-19 Updates by Amber Schmidtke, Ph.D.
Testing
Two weeks ago, we set a new record for total tests performed in a week's time. But our testing output has declined since then. Of the 22,714 new tests reported today, 8.4% were positive. The weekly total is 166,611 tests and a weekly percent positive rate statewide of 9.0%. It its good to see our percent positive rate declining. But we are unlikely to get to that 5% or below threshold if our testing output continues to decline.
Of the positive cases reported today, 13.6% were backdated prior to the 14-day window of uncertainty. That's well below this week's average of 21.6%. Significant backdating prior to the 14-day window can be an indication that testing backlogs are impacting our ability to monitor the pandemic. So seeing a decline this week in both the daily and weekly percentage is a good thing.
---
Cases
In the first graph below you'll see cumulative cases to date broken down by county type. Previously, I've shown this graph since the beginning of the pandemic, but I have since truncated it to when we reopened the state on 24Apr. I've marked the last four weeks with blue arrows.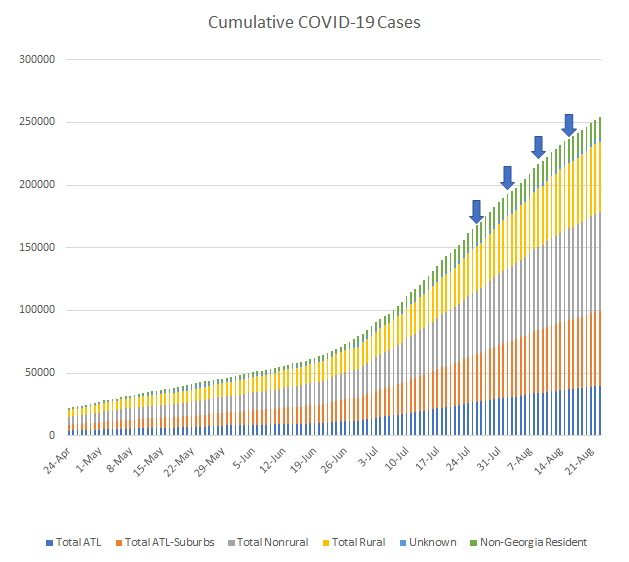 The number of new cases (by date of report) is as follows:
- 24 hours: 1727 (+0.7%)
- 7 days: 16,919 (+7.1%)
- 4 weeks: 85,996 (+51.2%)
The new statewide total is 253,949 which means that of all the cases that have been recorded, 33.9% were reported in the past 4 weeks. That is a reduction compared to last week (39.6%).
From the case bar graph you can see that I often break cases and deaths down by county category. But considering there will be very disparate population densities in those areas, it's important to see how intense disease is in these counties when adjusted for population. By county type, the cumulative case rate per 100,000 is as follows: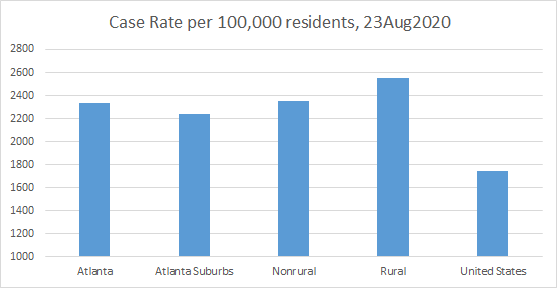 From the beginning of the pandemic to now, rural counties are being hit harder than any other county type. That's despite having a lower population density and thus less opportunity for the disease to spread. In addition, every county type in Georgia has a higher case rate per 100,000 than the national average. This is consistent with the most recent White House Coronavirus Task Force Report.
Below is a breakdown of how new cases were distributed by age this week (red) compared to last week (blue). There are decreases in every category (great news!). Young adults, aged 18 - 29 remain our largest age group for new cases.
---
Hospitalizations
Here is where current hospitalizations are. They have declined since late July. New hospitalizations are also down.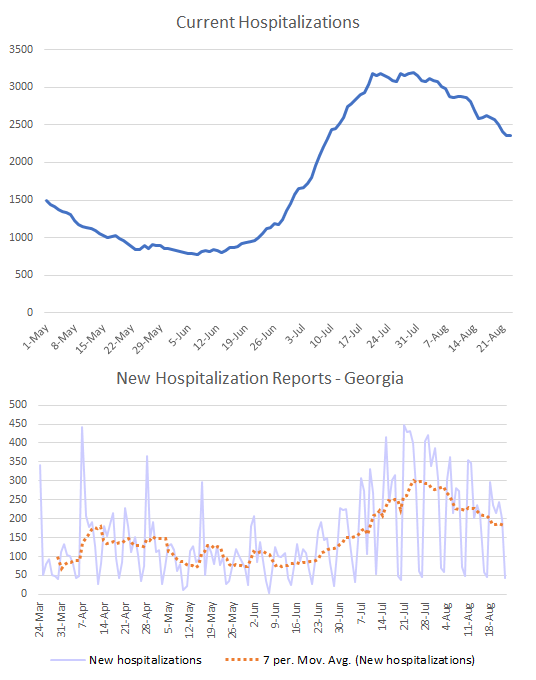 Ventilator usage is beginning to decline also after leveling off around 43% for the past few weeks. Seeing all of these hospital-related metrics trending downward is certainly welcome news.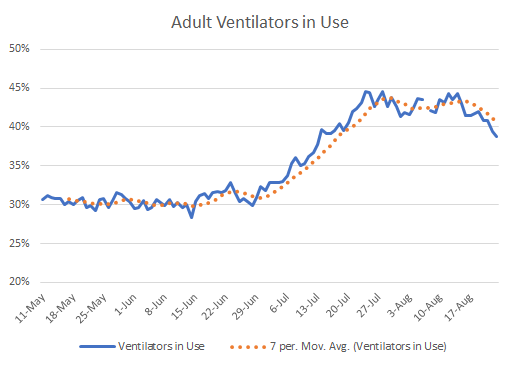 Here is how new hospitalizations this week compare to last week, broken down by age. Since hospitalizations are declining, it is not surprising that there are decreases in many age groups. But there are increases among those under 1 year old and a small increase in those 5-9 years old. Those 50-79 are the ones most likely to be hospitalized.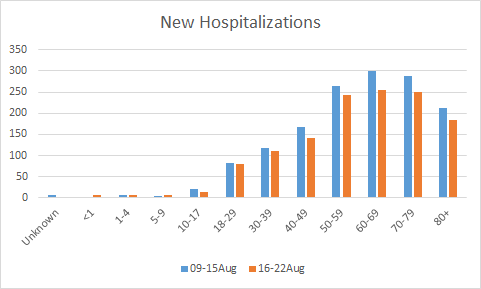 And to wrap things up here, this is how ICU bed usage compares across the state, as of today's GEMA report.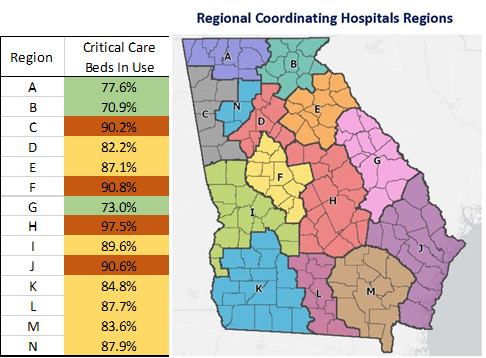 ---
Deaths
The number of new deaths (by date of report) is as follows:
- 24 hours: 40 (+0.79%)
- 7 days: 430 (+9.1%)
- 4 weeks: 1,634 (+46.7%) <- a new record
The new statewide total is 5,132 which means that of all the cases that have been recorded, 31.8% were reported in the past 4 weeks. Our deaths are continuing to climb as we saw our cases accelerate last month. Deaths are a lagging indicator compared to cases. So we will have a better sense of whether our current "decline" in cases is real depending on what happens with deaths. If the deaths continue to climb, it likely means that cases have also been continuing to climb (to feed that climbing death rate) but we weren't able to properly see them due to problems with testing output. Our deaths have increased by nearly 50% in the past month alone. As for cases, I've calculated the cumulative death rate per 100,000 based on county type.
Atlanta: 45.2

Atlanta suburbs: 39.8

Nonrural: 49.0

Rural: 69.9

United States: 54
Here's how Georgia fatalities have broken down by age and sex.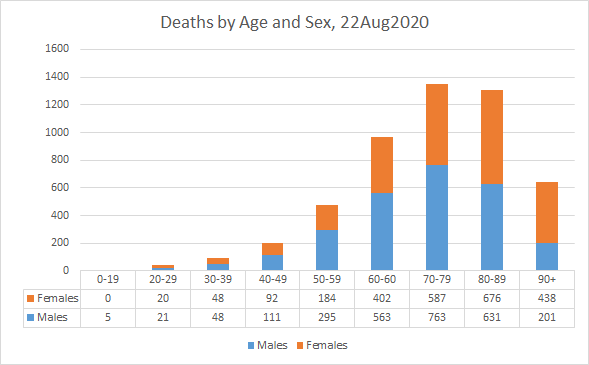 All deaths in those 19 and under have been male and 80% of them had an underlying condition. There is an equal distribution of male:female deaths among young adults aged 20-39. Then males predominate those 40 - 79.
And here is how fatalities (cumulative) have been distributed by age and race.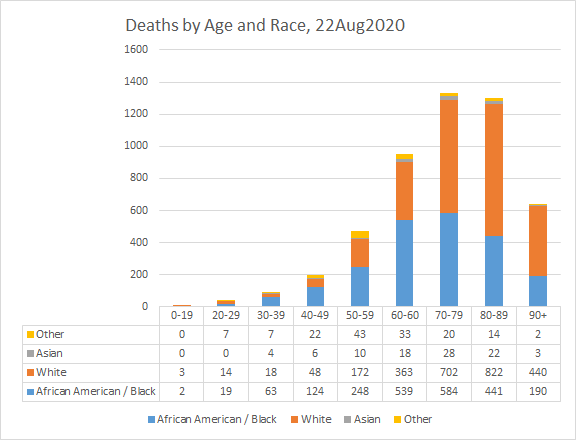 Finally, here is how deaths this week compare to the previous week, broken down by age. Because last week was a record-setting week, it is not surprising that every age category saw decreases or remained equal to last week (18-29 and 40-49).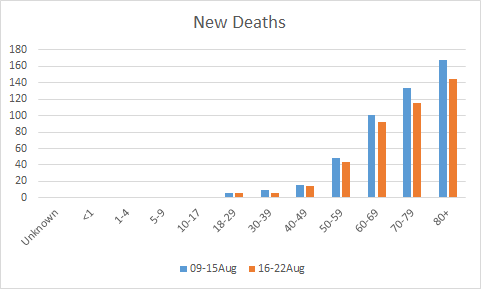 ---
Combined Data
Below is a graph that allows us to see weekly trends for cases (left y-axis) and hospitalizations and deaths (right y-axis). Cases and hospitalizations appear to be declining. Deaths are also less than last week. This is all good news. But we are still really high for all of these things. So it is important to continue to do all that you can to limit disease transmission in your community.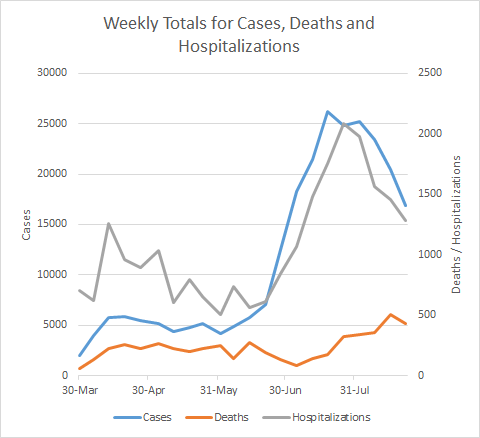 This next graph shows how cases and deaths for just the most recent week were distributed by race. I've also included each race's proportion of the population based on census data.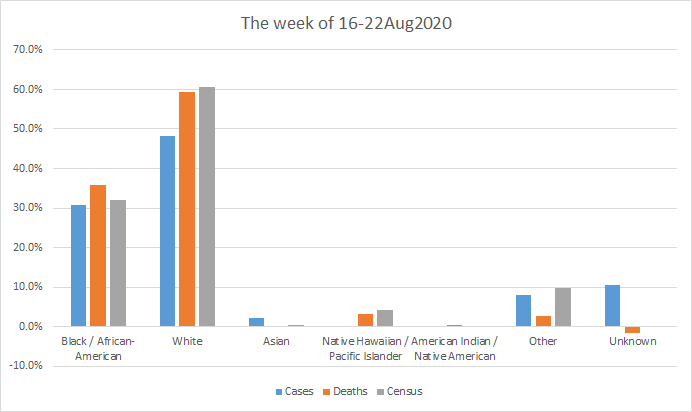 Lastly, here's how cases, hospitalizations and deaths have been distributed by age since the beginning of the pandemic. These data come from the demographics tab on the DPH daily report.
I'll be back tomorrow with a look at how Georgia compares to the national context in this pandemic.
---
References
https://dph.georgia.gov/covid-19-daily-status-report
http://208.97.140.204:8080/epicurveInteractive-cases.html
https://www.ajc.com/news/white-house-says-georgia-now-leads-nation-in-rate-of-new-virus-cases/GXLTMDVSWJGO3EVVFAR7EJT7CA/
https://www.facebook.com/GEMA.OHS/photos/pcb.10158272252546391/10158272251651391/?type=3&theater
---
Georgia COVID-19 Updates is a free newsletter that depends on reader support. If you wish to subscribe please click the link below. There are free and paid options available.
My Ph.D. is in Medical Microbiology and Immunology. I've worked at places like Creighton University, the Centers for Disease Control & Prevention and Mercer University School of Medicine. All thoughts are my professional opinion and should not be considered medical advice.