The Daily Digest, 23Sep2020
Georgia COVID-19 Updates
Hello! Today we'll go through the usual updates and there will be a special focus on ICU usage. I don't expect to report tomorrow because my family's belongings arrived at long last today and I'll be digging my way out of cardboard and packing paper. I hope to be back on Friday.
Testing
Today there was a net increase of 19788 test results (a mid-range day for us). Of those, 4.8% were positive. On it's face, that looks like good news (we're below 5%). But there are two pieces of context that we need to keep in mind. First, we can't declare victory or failure based on a single day's results. Instead, we need to pay attention to trends because of the ways that data can fluctuate based on testing backlogs or delays in reporting. The trend is so important that it is the reason why you see the 7-day moving average (a trendline) on every graph for public health data. The second piece of context is that only 66% of today's cases were reported through Electronic Laboratory Reporting (ELR). That means that for the remaining 34% of cases that were reported, there are an unknown number of negative results that go with those that are NOT factored in to the percent positive rate. Ideally, this rate should be >90% and most of the time, it is for the state. In fact, right now our trend is seeing a lot of duplicate results that are subtracted out (when ELR-reported cases >100% of the net increase in cases for the day). But when we are missing ~34% of the data, it's sort of a black box as to what the actual percent positive rate is for today. It also might mean that today's mid-range test day is actually a really good test output day…but we just don't know with incomplete information. Again, it's best to stick to the trends, and this is a great example of why...because most days our state is doing really well at ELR-based reporting. Below you can see how many of the day's cases have been reported through ELR in the past. The y-axis is expressing the percentage as a fraction, so 1 = 100%. The 7-day moving average is presented as a dark blue dashed line.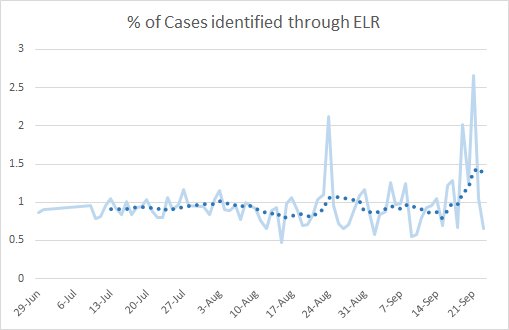 ---
Cases
There was a net increase of 1457 new cases today, a mid-range day for us. The new statewide total is 309,678. Some interesting things happened in today's new cases. It's not unusual to see cases subtracted from the unknown category as contact tracers are able to conduct their investigations. However, 410 cases were removed from the Non-Georgia Resident category and that seems like a lot. Of the net increase in cases today, 722 (50%) came from nonrural counties outside of the Atlanta metro. Another 36% came from rural counties.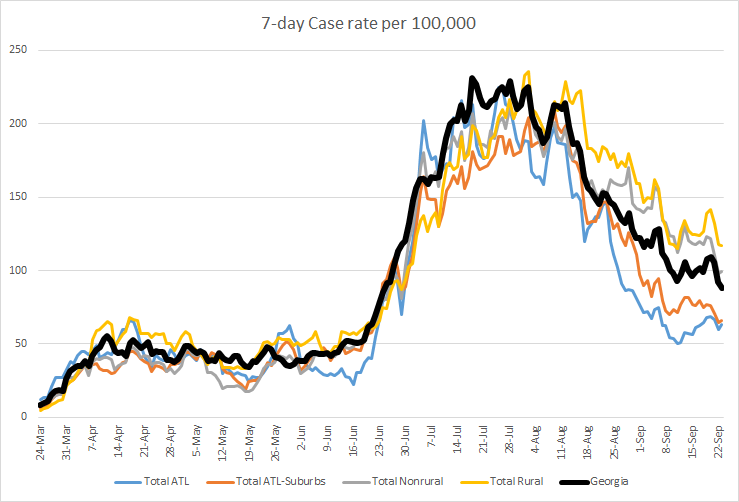 Overall, case rate per 100,000 for the state appears to be continuing to decline after plateauing for several days last week. That's welcome news.
---
Hospitalizations
The current number of hospitalizations decreased further from 1406 to 1370 today. There were 259 new hospital admissions. However, it should be noted that the first day after weekend backlogs tends to be a big day, and this week's number is lower than last week at this time (271). There were 51 new ICU admissions and we haven't seen a number this high since early September. The percentage of adult ventilators in use has stabilized at about 31% for the past five days. So it's a mix of good and bad news here. It's possible that we are admitting more people but they aren't requiring as many days in the hospital as they did earlier in the pandemic (a good thing). There are two hospital regions that have >90% ICU bed usage today, regions H and N.
I noticed something weird yesterday when I was looking up information on comorbidities that the state of Georgia is tracking for COVID-19 cases. Among the things they consider to be underlying conditions, they indicate that needing an ICU is one of them. And that is perplexing, since that's more of an outcome of a more severe form of infection than a pre-existing condition that may have contributed to a person's disease severity. However, we do get to see some important race and sex information on ICU rates because of this inclusion. You can view the data for yourself in the Risks/Comorbidities section toward the bottom of the DPH daily report. I've included a screen shot of their graph here.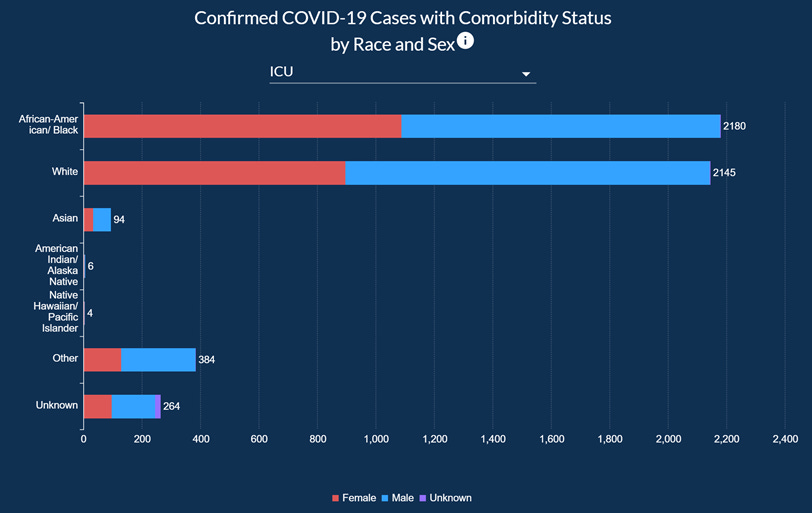 By the way, many of the comorbidity categories have a lot of incomplete case information. However, that's not the case for ICU admissions since their cases are more severe and probably get more scrutiny and investigation. The total number of patients represented on this graph is 100% of the ICU admissions tallied by the state to date. Of those patients who have required ICU admission for their care, the largest race impacted is African-American / Black although they are followed closely by White patients. That's disproportionate when you consider census data that indicate African-American / Black populations make up just 32% of the Georgia population compared to White populations who comprise 61% of the Georgia population (2018 census data).
The other interesting piece of information to come from this is the breakdown of male and female across races but also overall. Note, these data are current as of yesterday.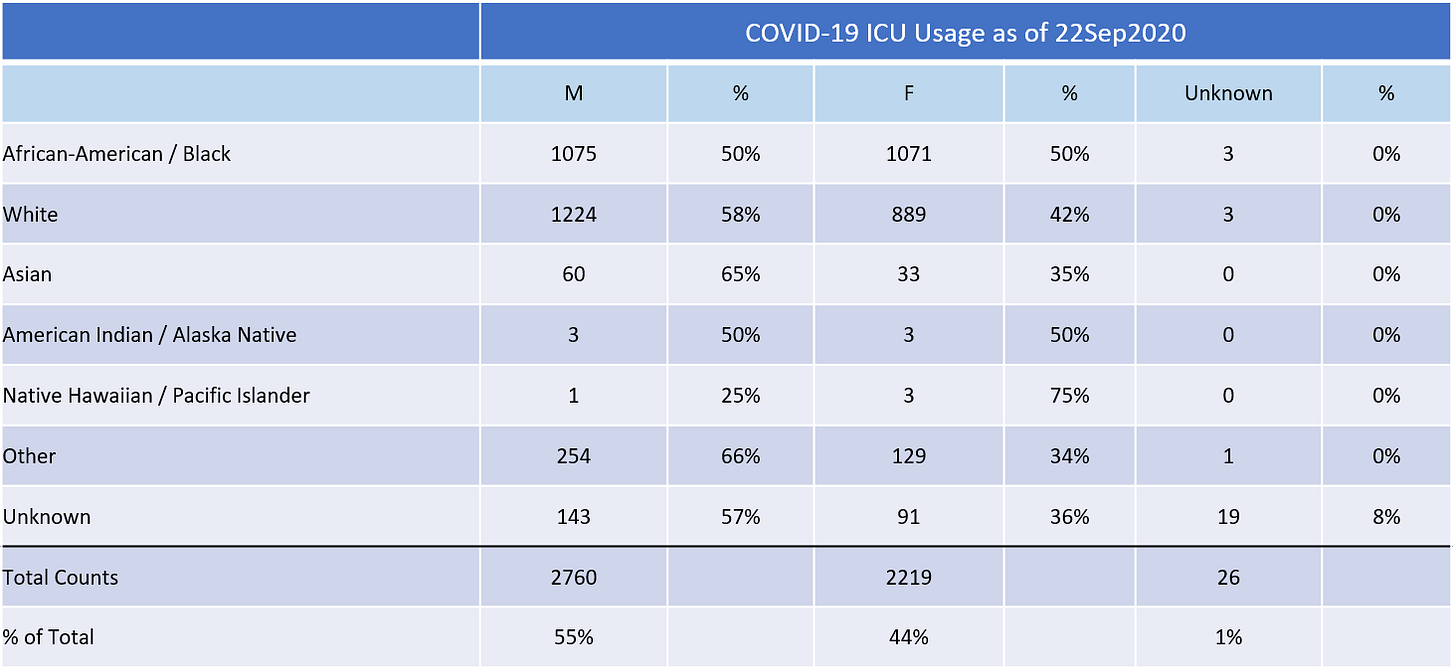 The sample size for American Indian / Alaska Native and Native Hawaiian / Pacific Islander is too small for us to conclude much of anything. But I found it really interesting that there is such a male:female disparity across the other races apart from African-American / Black. When looking at all individuals who have needed an ICU to this point, 55% of them are male compared to 44% who are female.
---
Deaths
There was a net increase of 96 deaths today and this is a big day for us. Sixty seven of these deaths (~70%) took place in the most recent 14 days. Fifty one of them (53%) came from rural counties and another 34 came from nonrural counties (35%). Put together, that means that 88% of the deaths were reported from outside of the Atlanta metro. So additional resources may be needed outside of the Atlanta metro to bring these deaths down. Today's newly reported deaths bring the statewide total to 6773. Below I've provided an updated graph of the 7-day death rate per 100,000, based on date of report. The difference between rural county death rate and the state death rate is widening.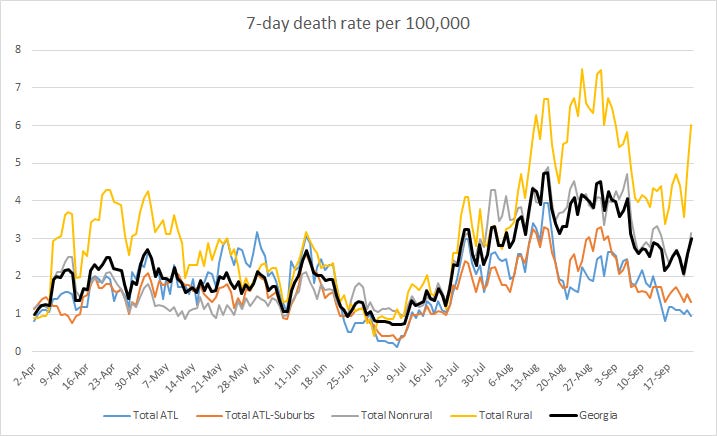 To summarize, it was a mid-range day for testing, cases and hospitalizations. However, it was a higher than average day for deaths.
---
References
https://dph.georgia.gov/covid-19-daily-status-report
https://covid-gagio.hub.arcgis.com/
http://www.dshaver.org/covid/epicurveInteractive-deaths.html
---
Georgia COVID-19 Updates is a free newsletter that depends on reader support. If you wish to subscribe please click the link below. There are free and paid options available.
My Ph.D. is in Medical Microbiology and Immunology. I've worked at places like Creighton University, the Centers for Disease Control & Prevention and Mercer University School of Medicine. All thoughts are my professional opinion and should not be considered medical advice.