The Daily Digest, 22Jul2020
Georgia COVID-19 Updates
Hello! First, today is the launch of my podcast, Public Health for the People. You can find it on Spotify, Apple Podcasts, Google Podcasts and others. Big thanks to Kacie at Could be Pretty Cool for helping me get this project off the ground.
Second, starting August 3rd, I'm going to begin offering paid subscriptions on Substack. Before anyone freaks out, the Daily Digest and the Week in Review will remain completely free to all email subscribers and folks who visit the page from social media platforms - I am a firm believer that we are all in this together and I want to make sure you have access to the data analysis to aid your decision-making. This is really to simplify things for me, so that I can manage all of my things in one place, compared to having a Substack and a Patreon, etc. For those who are already contributing via Patreon, the process should be pretty seamless for you. Those whose contributions are collected on August 1st will be given a complimentary subscription for the month of August on Substack. If you wish to continue beyond that then at the end of the month Substack will ask you to update your information and confirm your interest in ongoing inclusion on the paid subscription list.
So why go to a paid model? Some people want to contribute because they recognize the value of what I'm doing as largely a public service. I'm grateful for that generosity and recognition - thank you. Again, this simplifies things for me to bring everything into one community. There are some perks of being a paid subscriber for those who wish to do so after the August 3rd transition, including…
Members only Q&A discussion threads.

Additional emails/posts that include my analysis of research and other things that do not necessarily fit in well with the Daily Digest or Week in Review, or examine things other than COVID-19.
And more may be added as time goes on. To recap - everything you're experiencing now will continue to be available to all email subscribers and people who visit this page from other platforms at no cost. If you wish to support this effort, that's fine. You get some cool extras for about the same amount you would spend on one fancy coffee each month. If not, that's fine too. But the more paid subscribers there are, the more time I can devote to this effort.
On to today's update.
---
Testing
There were 21,553 new PCR test results reported today and that's pretty consistent with the state's average for the past month where daily test output has been between 20,000 - 25,000 per day. Of today's PCR tests that were reported through Electronic Laboratory Reporting (ELR), 12.3% were positive. Below you can see a graph that compares how tests and positive test results have varied over time. The PCR tests are measured using the left side y-axis and the positive PCR test results are on the right y-axis. The raw data are in the subdued colors and the 7-day moving average is the darker for new tests and positive tests, respectively.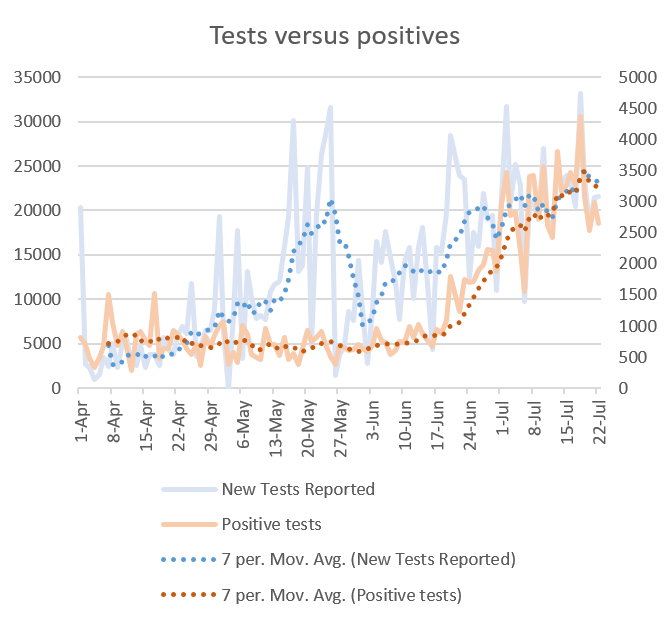 What this graph shows us is that although daily test output has stayed relatively stable over the last month, there has been a large increase in daily positive test results. This would suggest that the case surge we are seeing is not due to large increases in testing. Our PCR positive rate (12.3% today) would suggest we aren't doing enough testing.
---
Cases
There were 3314 new cases reported today and that brings the statewide total to 152,302 confirmed infections since the pandemic began. As has been the case for months now, nonrural counties (that aren't part of Atlanta or its suburbs) lead the way with 929 cases reported today.
Below you can see the 14-day increase by county. I have set the legend so that anything over 100% is shaded with dark purple so that we can easily visualize them. There are drawbacks to doing it this way, i.e. we lose the ability to discriminate above a certain threshold, but it lets us see how bad the problem is for now. For more on this balancing act, read the first paragraphs of this previous post.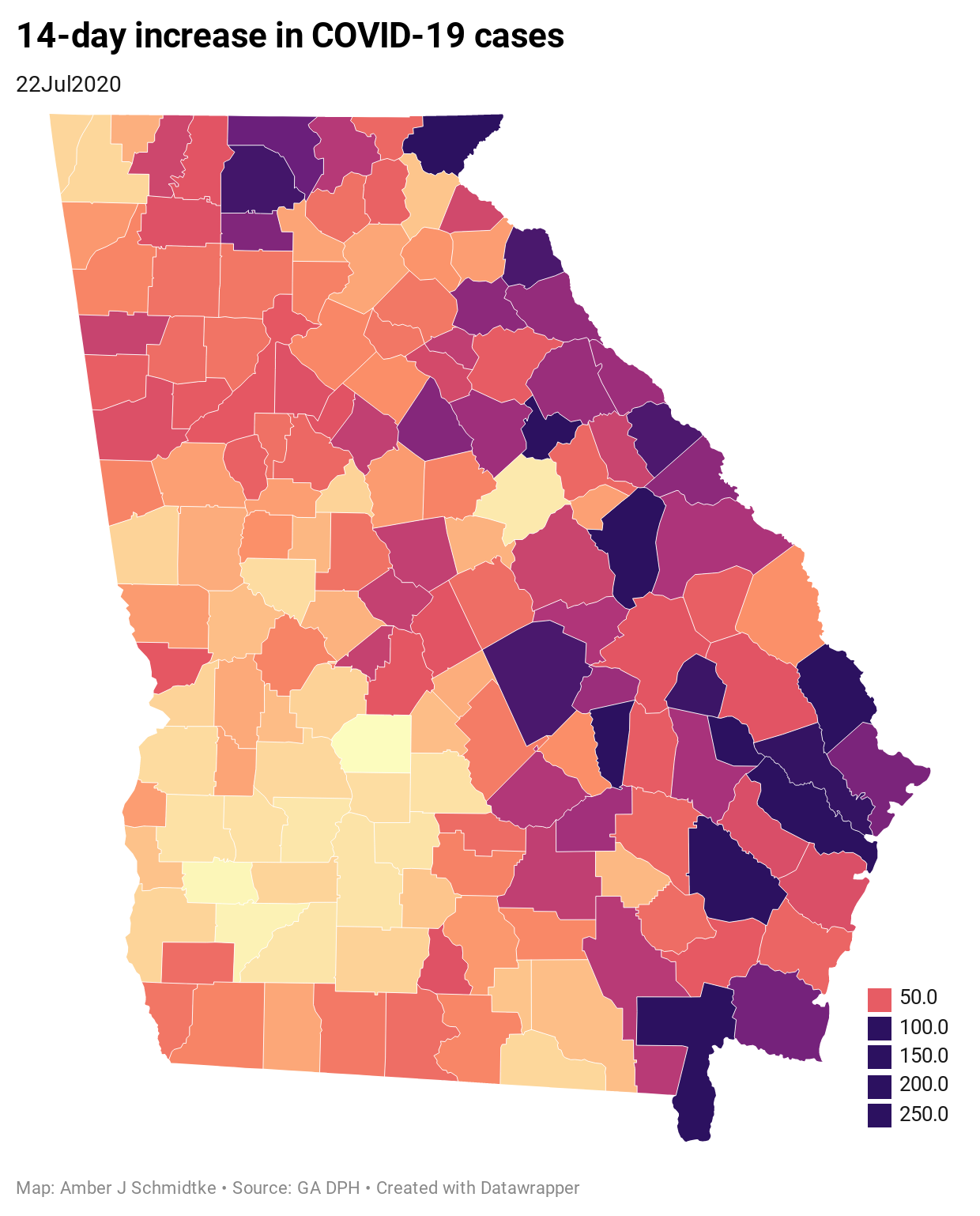 The areas of greatest increase continue to be in the eastern half of the state and along the Tennessee and South Carolina borders. I recognize that it can be hard to see what the rate of increase is for your particular county so here's a table that shows the rate of increase over the past 24 hours and 14 days for the counties that have a >50% increase for the past two weeks.

---
Hospitalizations
Current hospitalizations remain high but they are plateauing for now (see the graph below). I was able to confirm with the people who produce the data that the hospitalizations being reported for COVID-19 from DPH and GEMA are because of COVID-19 symptoms, not people who were screened for procedures that might require a hospital stay (i.e. labor and delivery, non-COVID surgical procedures, etc). I know that's been an item of concern and I think the clarity is helpful.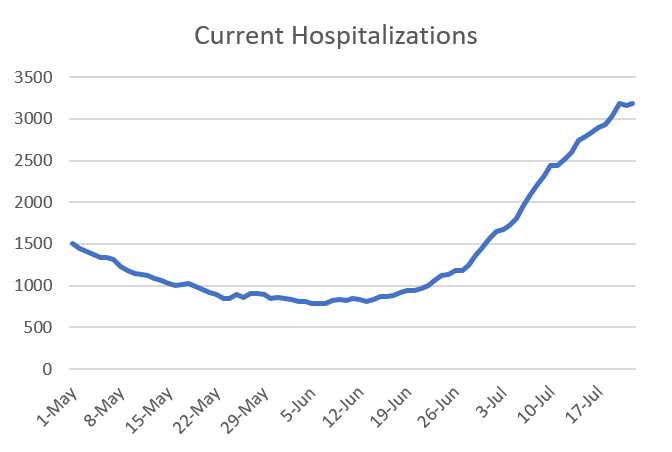 However, the more concerning news is what is happening with ICU capacity across the state. GEMA reported today that only 12% of the state's ICU beds are available right now, or 354 beds. That's the highest that I've seen since GEMA began providing these data. If we look more closely at ICU availability by hospital region, you can see that large areas of the state are under considerable strain. In the table on the left, I've color coded the critical care beds in use with 90%+ in red, 80-89% in yellow and less than 80% in green. There's only one hospital region (K) with less than 80% bed use at this time. Notably, that's southwest Georgia, where case increases are mild on the 14-day increase map I presented above. Hospital region N, that serves northwest Atlanta, is showing 98% of its beds in use. In the time that I've been tracking these data, it has been unusual to see so many regions with less than 20 ICU beds available. This development worries me. It means that our ability to cope with the most severe cases of COVID-19 is being strained.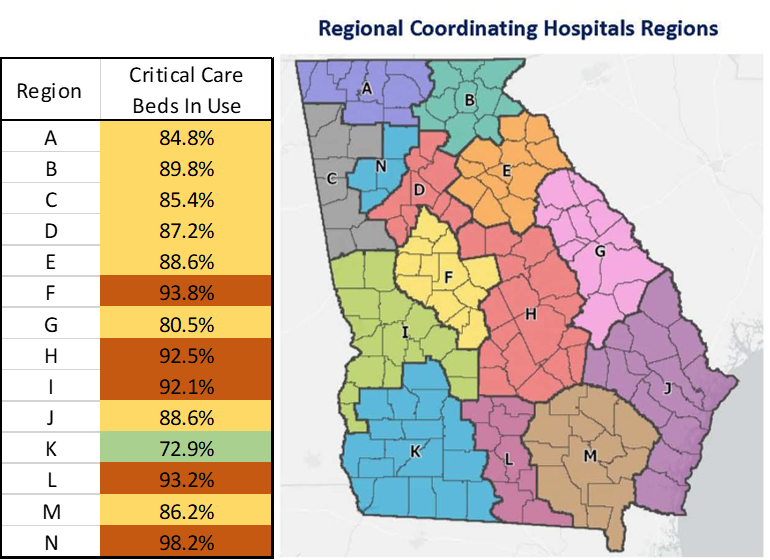 ---
Deaths
There were 81 deaths newly reported today, a high day for us historically. The new statewide total is 3335. As a reminder, there are significant delays in death reporting so it is very unlikely that most of these individuals actually died in the last 24 hours. Their deaths will be charted on the DPH death curve based on the date on which they died. As a consequence, the death curve will *always* look like it is declining in the past 14 days. That decline may or may not be real, because the data are not very trustworthy in the recent past. Seeing a big death report today, combined with the large number yesterday (78) tells us that there has been far more death in our community over the past weeks than we previously realized.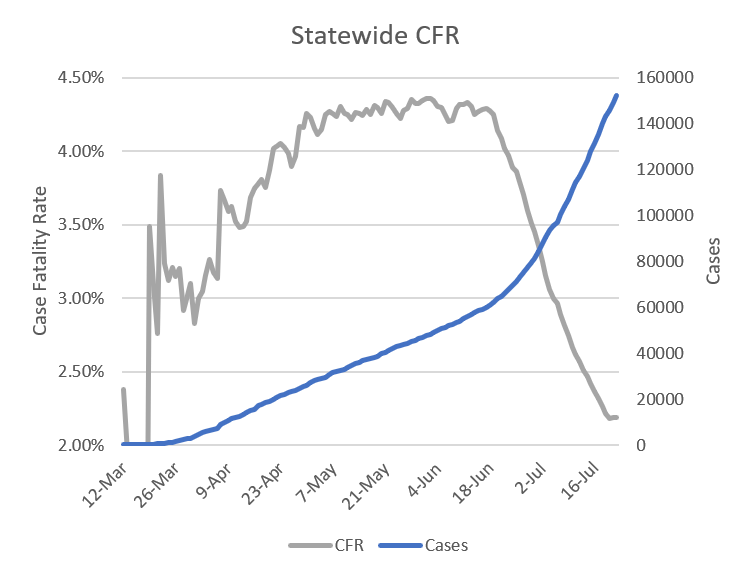 In fact, the past two days' higher-than-usual death totals have stopped the ongoing decline of the statewide case fatality rate (CFR). It's too early to know whether this matters - it could be noise like we saw in the CFR between 7May and 18Jun when the CFR started to drop. As I've discussed before, the decline in the CFR is probably a dilution of the deaths with all of the cases we've recorded since the case surge began around 18Jun. Let's hope that the deaths return to a much lower number in the coming days.
To summarize for the day, we are not doing enough testing and this makes it hard to adequately monitor and track the pandemic. Our hospitals are under enormous strain - impacting our ability to cope with the worst cases of COVID-19. Our deaths have been larger in the last two days than they have been over the past month, indicating that there was more death than we thought in recent weeks. We really can't afford to increase transmission in any way right now - we don't have the ability to track or cope with anything on top of what we're currently experiencing. Anything you can do to limit your exposures will help our hospital workers, our laboratorians, our contact tracers.
---
References
https://dph.georgia.gov/covid-19-daily-status-report
https://gema.georgia.gov/document/document/sitrep-722/download
https://amberschmidtkephd.substack.com/p/the-sunday-week-in-review-19jul2020
---