The Daily Digest, 18Sep2020
Georgia COVID-19 Updates
Happy Friday! I hope everyone has a safe and socially distanced weekend. I'll be back on Sunday with the Week in Review.
Testing
There were 22,061 new tests reported today, an average day for us. Of those, 5.6% were positive. Now, on a normal day that would be cause for celebration because we are really, really close to the 5% WHO threshold that needs to be met consistently for at least 14 days to indicate that we are testing widely enough to be on track to contain the pandemic. However, the bad news about today's test data are that only 66.9% of the newly identified cases were reported through electronic laboratory reporting (ELR), when typically that number is at least 90%. When the number is low like this, it means that there are a lot more test results that we DON'T know about that would normally be used to calculate percent positive rate. So today's 5.6% is probably an unreliable estimate of our true positive rate and it's premature to celebrate for this reason. Hopefully, someday soon we will have a 5% positive day with >90% reporting through ELR.
Another key thing to note is that the Department of Public Health only includes confirmed cases in their case total and the only test they accept as confirmation of a case is the PCR/molecular test. However, that test is falling out of favor because it is slow and expensive and the test collection is unpleasant. Instead, many people are being tested now using rapid antigen tests and others that produce faster, albeit less reliable results. What this means is that we are likely seeing significant under-reporting of cases using the DPH reporting criteria. Some states include the rapid antigen tests as a "probable" case but because of reliability issues with the tests, they aren't "confirmed." The more I think about our declines in testing output, the more I wonder if it's because of this shift toward more simple and more rapid detection methods. The end result, however, is that we don't really know where the cases are.
---
Cases
Yesterday we surpassed the 300,000 mark. We crossed the 200,000 mark on August 5th and the 100,000 mark on July 7th. When we cross these milestones, it's interesting to note how we got here and the idea that we've gained 200,000 cases in a little over 2 months time is breathtaking.
For today, there were 1834 newly identified cases and that brings the statewide total to 302,737. Of today's cases, 38% came from nonrural counties outside of the Atlanta metro, 36% came from rural counties. Together, that means that about 75% of today's newly identified cases came from outside of the Atlanta metro.
Below you can see how the 7-day case rate per 100,000 varies over time and by county type.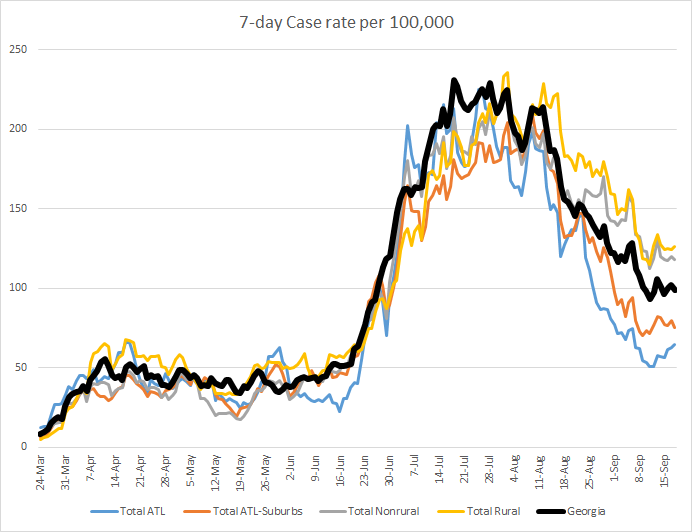 We're seeing a leveling of the decline for statewide rate with increases for Atlanta counties. Disease rates are nearly equal for rural and nonrural counties.
---
Hospitalizations
There were 149 new COVID-related hospital admissions and 21 new COVID-related ICU admissions today. The number of patients currently hospitalized for COVID is 1419, a decline from yesterday and part of a larger decline that has been sustained for 6 days.
With today's new hospital admissions, the 7-day moving average continues to show a small increase over the past week for this metric.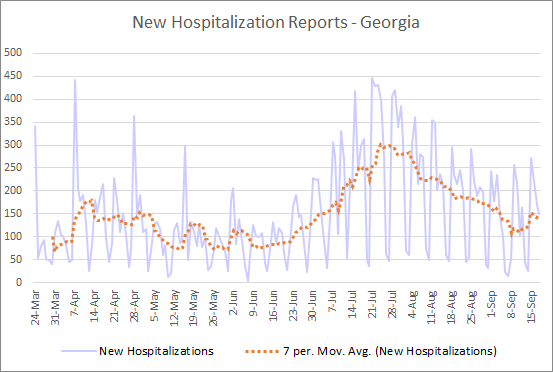 And finally, here is how ICU bed capacity is looking across hospital regions as of today. There are some areas showing strain but thankfully they are surrounded by areas that are not. So it seems there is capacity if diversion is needed.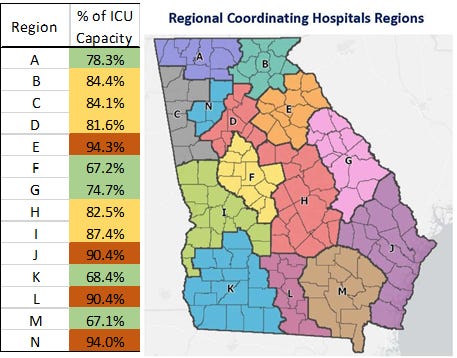 ---
Deaths
There were 63 newly reported deaths today, a mid-range day for us. The new deaths bring the state total to 6537. Of today's deaths, rural counties led the way with 42.9% followed by nonrural counties (33.3%).
Below you can see how the 7-day death rate per 100,000 is changing over time and county type.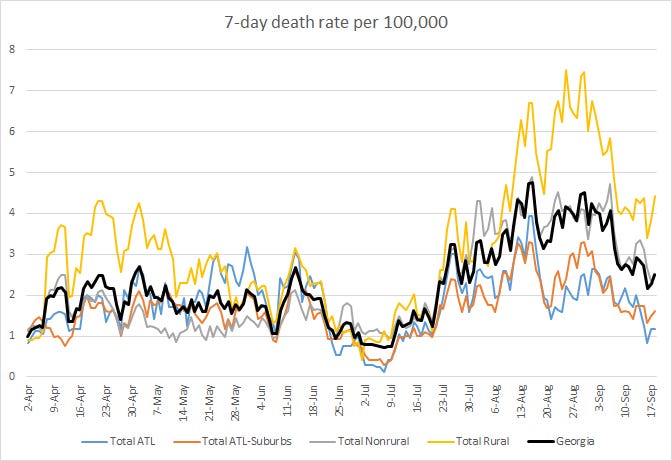 Nonrural counties are tracking along with the statewide average. Atlanta counties continue to decline. However we are seeing a leveling off of these declines for rural and Atlanta suburb counties.
---
Media
I wanted to share this news story from Nick Wooten at the Columbus Ledger-Enquirer. In addition to the written text, there's a video (~3 minutes long) featuring perspectives from several public health and data scientists on how the pandemic response in Georgia is going. It includes myself and Dr. Kathleen Toomey among other experts and it seems that we are largely in agreement - we lack a cohesive strategy and the gains we have made are fragile.
---
References
https://dph.georgia.gov/covid-19-daily-status-report
https://covid-gagio.hub.arcgis.com/
http://www.dshaver.org/covid/index.html
---
Georgia COVID-19 Updates is a free newsletter that depends on reader support. If you wish to subscribe to my newsletter, Georgia COVID-19 Updates, please click the link below. There are free and paid options available.
My Ph.D. is in Medical Microbiology and Immunology. I've worked at places like Creighton University, the Centers for Disease Control & Prevention and Mercer University School of Medicine. All thoughts are my professional opinion and should not be considered medical advice.