The Daily Digest, 04Sep2020
Georgia COVID-19 Updates
Good evening! Please have a relaxing and socially distanced weekend. It's okay to have fun, but I think the last thing any of us want is to put someone we care about in the hospital.
Testing
Today was a mid-range day for testing for the state, with 21,460 new results reported. Of those, 8.5% were positive. Today, 88.2% of the newly identified cases came through Electronic Laboratory Reporting. So the percent positive rate should be pretty representative of reality. For today's newly reported cases, 22.8% were backdated prior to the 14 day window of uncertainty. In the graph below you can see how our percent positivity has varied over time. The orange dashed line is the World Health Organization goal of 5%. We are closer than we were in July, but still above that target.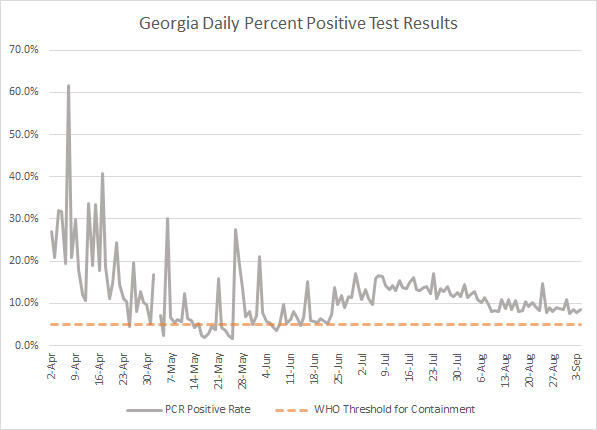 ---
Cases
There was a net increase of 2066 newly identified cases, bringing the statewide total to 279,354. Of today's cases, 39.9% came from nonrural counties (those with >50,000 residents that are outside of the Atlanta metro). The next highest category was rural counties, contributing 28.3% of today's cases. Below you can see how disease rates, adjusted for population, have varied over time. The solid dark line represents the statewide average.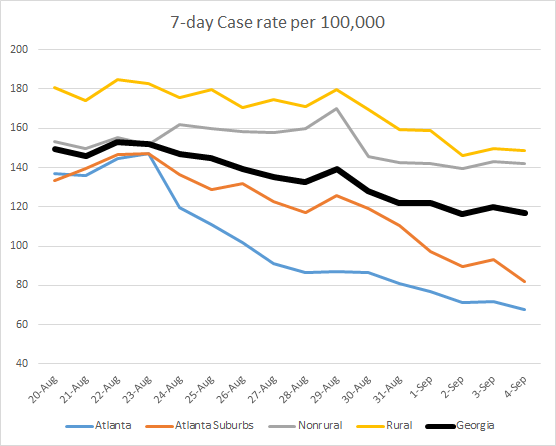 You can see that cases are most intense in rural counties followed by nonrural counties. Comparatively, the Atlanta metro is actually doing pretty well. That's not to say that my Atlanta friends and readers should have a big party this weekend to celebrate - keep doing the right things. Because looking at data from the COVID Tracking Project, it appears that the case decline we've worked so hard to achieve in the South is plateauing. It puts a lump in the throats of many who work in public health when that happens, because it could mean that cases are going up in the coming weeks. Let's hope that it's just a short pause before continuing to trend downward. Please just remember that while cases have been declining since our peak in July, we still have not returned to our pre-surge case rate. We still have a LOT of disease circulating in our communities.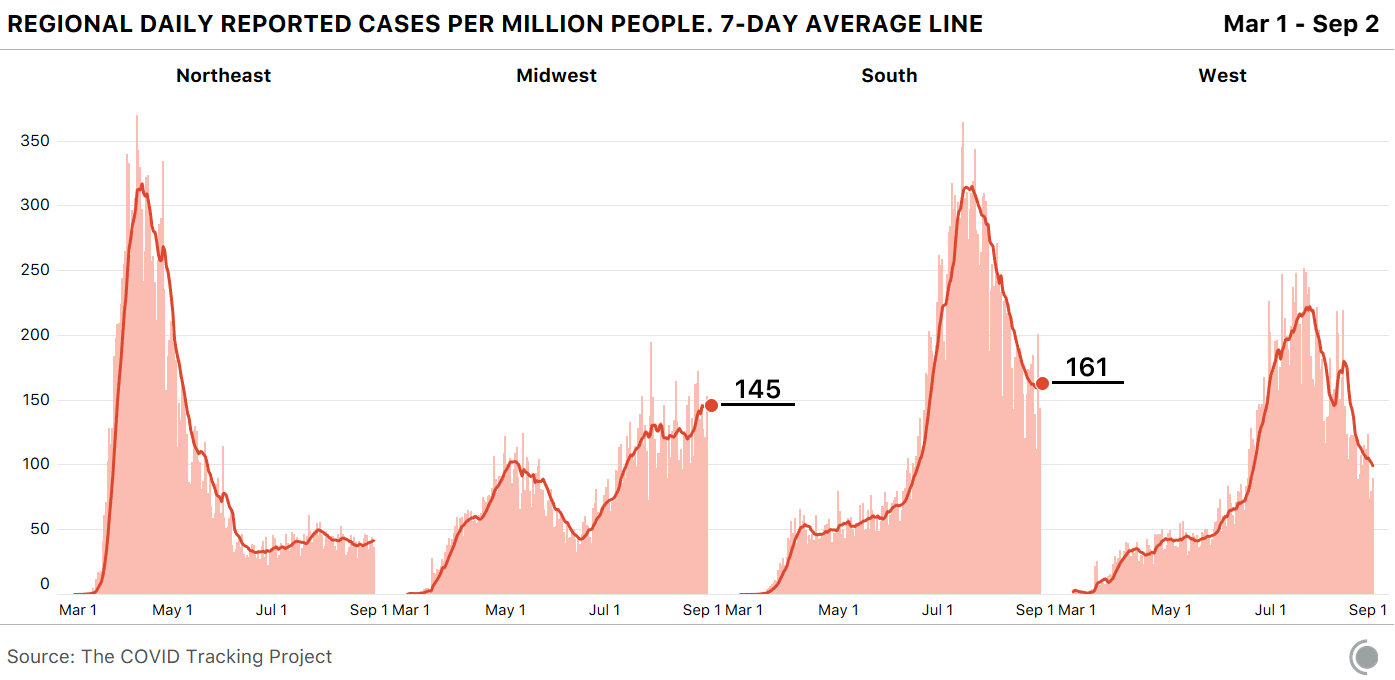 ---
Hospitalizations
I spoke last time about the upcoming end of the daily situation report from GEMA. Another problematic thing I thought of related to this is that we will no longer have a preserved historical record of bed capacity over time for each region. If you consult the medical facility dashboard you'll see that for the graph that shows the history of bed use for each tab that they are showing total counts for beds in use. We don't get to see the history of beds available, either available for a patient or total beds staffed in a region. So it will be harder to track the strain that hospitals are experiencing as we head into the influenza season. Also, each data point on those graphs is a rounded number, rather than the actual count. It will therefore be important for news organizations and people like me to record that information daily.
New COVID-19 ICU admissions are starting to show a slight increase.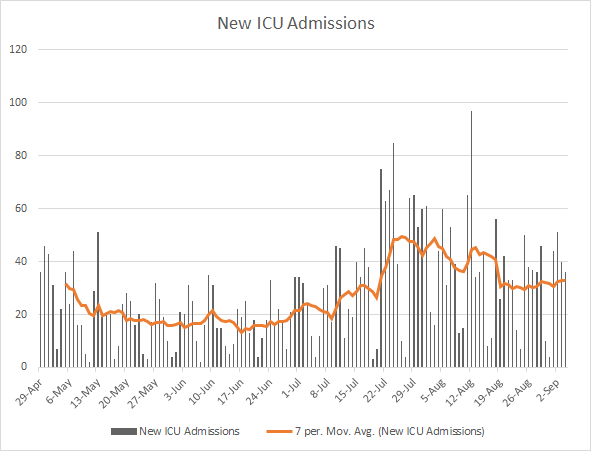 Here is how ICU bed usage looks now for the hospital regions in Georgia.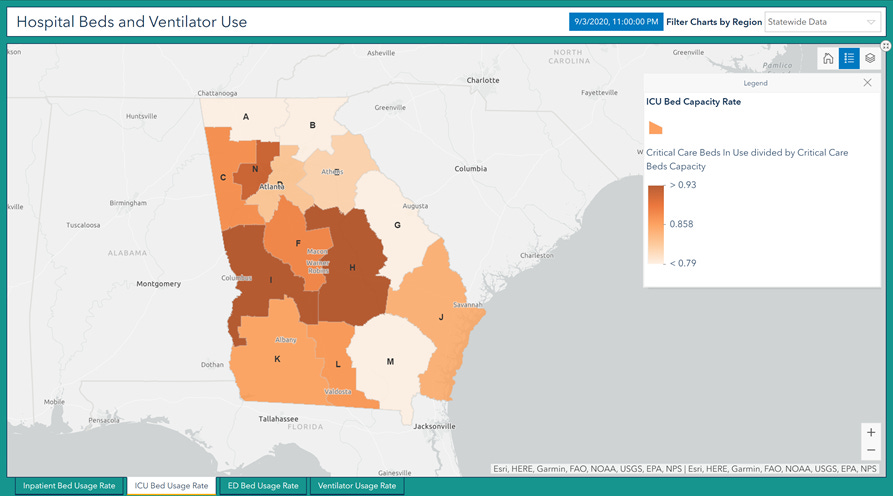 Hospital regions N, I and H have >90% ICU beds occupied.
Today there was a net increase of 147 newly identified infections among healthcare workers and 4 deaths. The cumulative total infections among healthcare workers is at least 16,327. I say "at least" because DPH notes that they do not receive occupation data for many cases. The cumulative number of deaths among healthcare workers is 109. This may also be an under count.
---
Deaths
There was a net increase of 63 deaths newly reported today. That brings the statewide total to 5931. Death reporting is often decreased over the weekend because I've been told that nursing homes don't report their data during that time. So I wouldn't be surprised if we cross 6000 this weekend, but it might not be tomorrow. It will be a somber milestone. We crossed 5000 on August 22nd. So our deaths really have been accumulating quickly.
Rural counties were our largest contributor to today's total, with 25 newly reported deaths. Nonrural counties were right behind them with 21. I talk a lot on the page about how intensely this pandemic is impacting rural counties. Let's see that on the map below.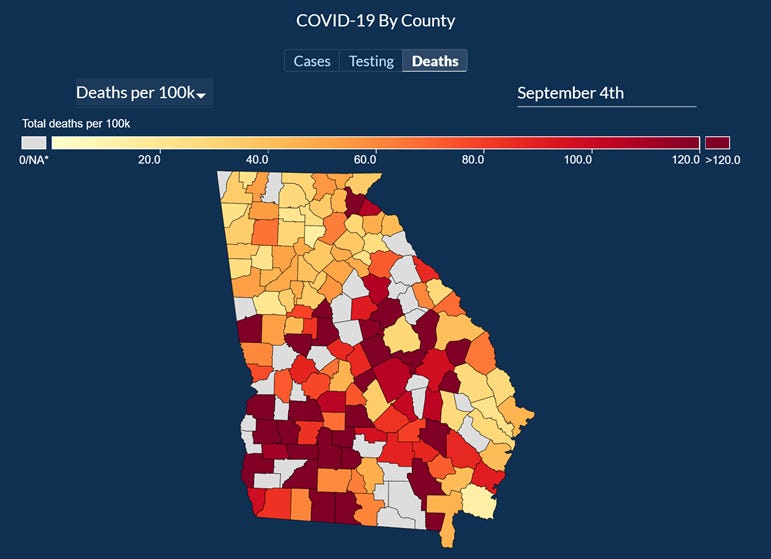 Most if not all of those darkly shaded maroon counties are rural ones. This map represents cumulative data and is adjusted for population.
---
References
https://covidtracking.com/blog/cases-stop-dropping-and-the-midwest-heats-up
https://amberschmidtkephd.substack.com/p/the-daily-digest-02sep2020
https://gagio.maps.arcgis.com/apps/opsdashboard/index.html#/47c1cee4d02542bea35bc3324d6cf5e3
http://208.97.140.204:8080/epicurveInteractive.html
https://dph.georgia.gov/covid-19-daily-status-report
---
Georgia COVID-19 Updates is a free newsletter that depends on reader support. If you wish to subscribe please click the link below. There are free and paid options available.
My Ph.D. is in Medical Microbiology and Immunology. I've worked at places like Creighton University, the Centers for Disease Control & Prevention and Mercer University School of Medicine. All thoughts are my professional opinion and should not be considered medical advice.