The Daily Digest, 03Jul2020
Georgia COVID-19 Updates
I had to travel outside of my county and region today for a veterinary appointment and stopped in to a grocery store in Fayetteville, GA for restrooms and snacks. I was blown away by the high percentage of people wearing masks inside the store, unlike where I live in central Georgia. I wanted to run around and give everyone high fives, but that's frowned upon in the time of COVID-19. In a time when it seems like mask wearing is this polarizing issue, it was refreshing and encouraging to see people who were so united and concerned for the well-being and safety of their neighbors. It's obviously an anecdotal report, but I hope it encourages you to keep doing the right thing.
Georgia Emergency Management Agency isn't publishing their daily situation reports over the holiday weekend but Georgia Department of Public Health is. So here's the latest.
For those who are new to the Daily Digest, I take Saturdays off so that I can do a week in review on Sundays - a bit more work than the daily update. So enjoy your (socially distanced) 4th of July and I'll see you on Sunday.
---
Testing
There were 20,907 new test results (diagnostic + antibody) reported today, a good day for us. 13.3% of those tests were positive. Remember that only the diagnostic test is used to confirm a case, so our positivity rate is actually even higher than that. We need to be at or below 5% in order to contain the virus, so we're a long, long way from that.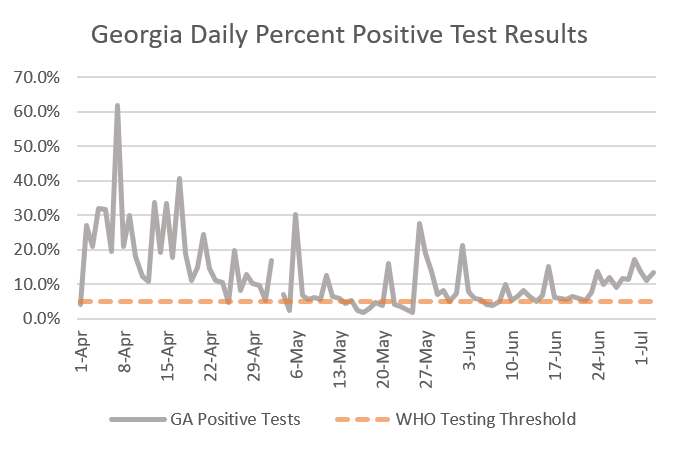 ---
Cases
Today there were 2784 new cases identified. This is a big number but not a new record for us. The new statewide total is 90,493. Big numbers like this can be hard to wrap your mind around. For reference, the seating capacity of the football stadium for the University of Florida Gators is 90,961.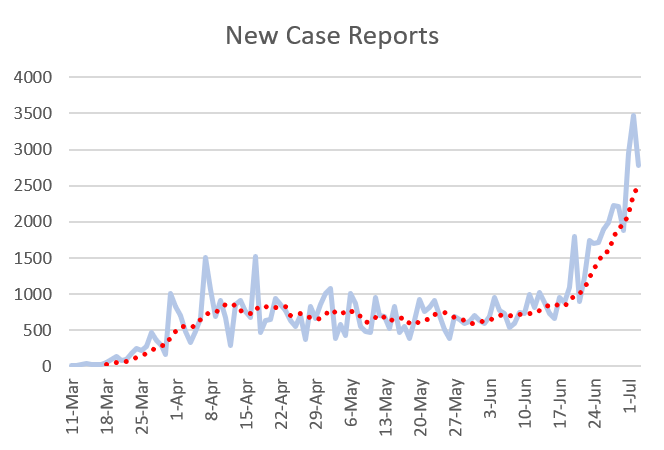 There are a growing number of counties on the concern list. Yesterday there were 30, now there are 40, or 25% of Georgia counties. Today I've mapped those counties so you can see where they're located and their intensity based on their 7-day increase. To make this list, counties need to have >25% increase over the past 7 days and >5% increase overnight.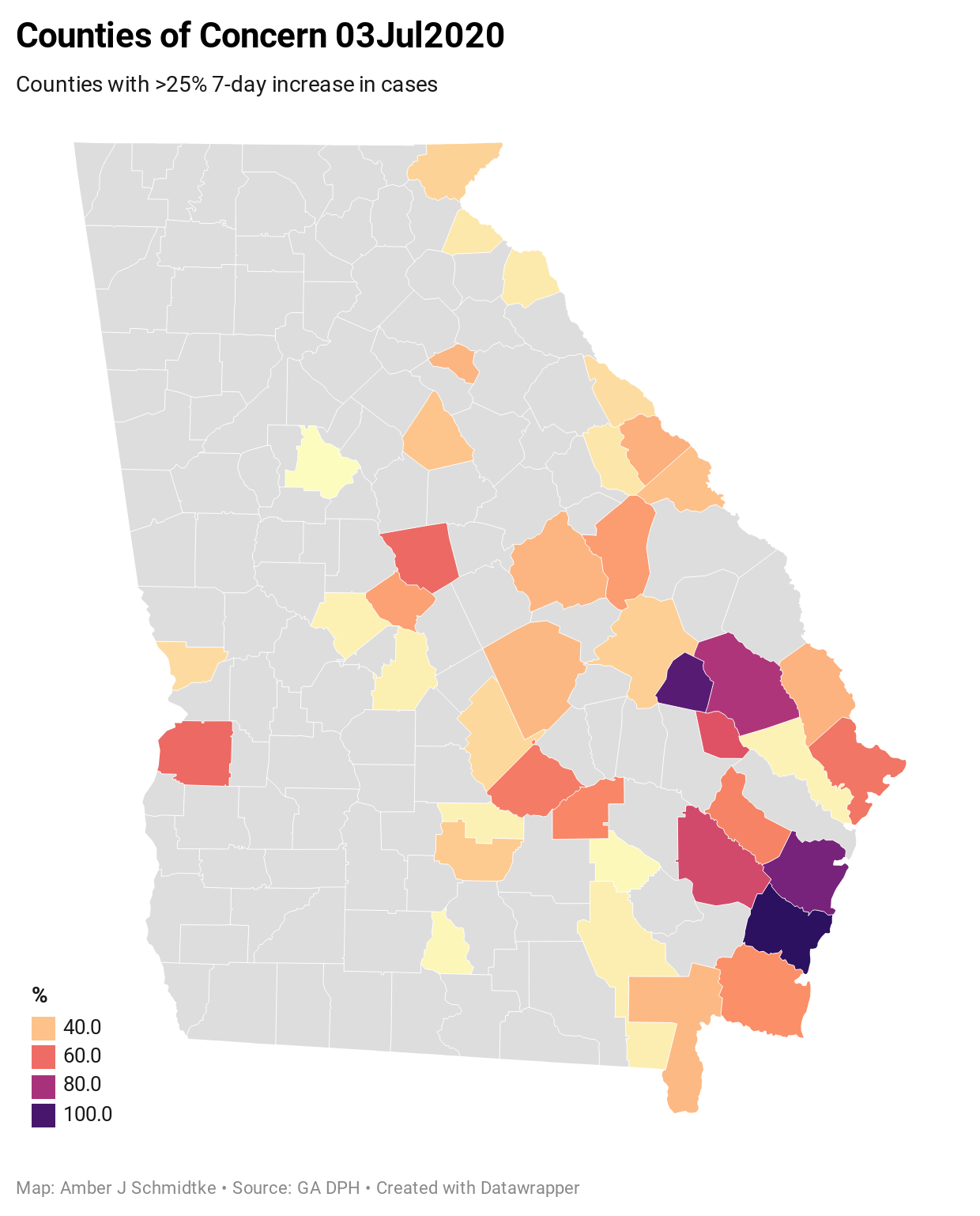 You can see that things are most intense by the coast but things are intensifying along the South Carolina border and in central Georgia as well. Below, you can see the list with their numbers. Today is the first time since the April peak that a county from the Atlanta metro (Henry county) made the list. Counties shaded in tan had <5% increase overnight and that would normally disqualify them from the list, but in case it was just a low testing day for that county they remain for at least one more day.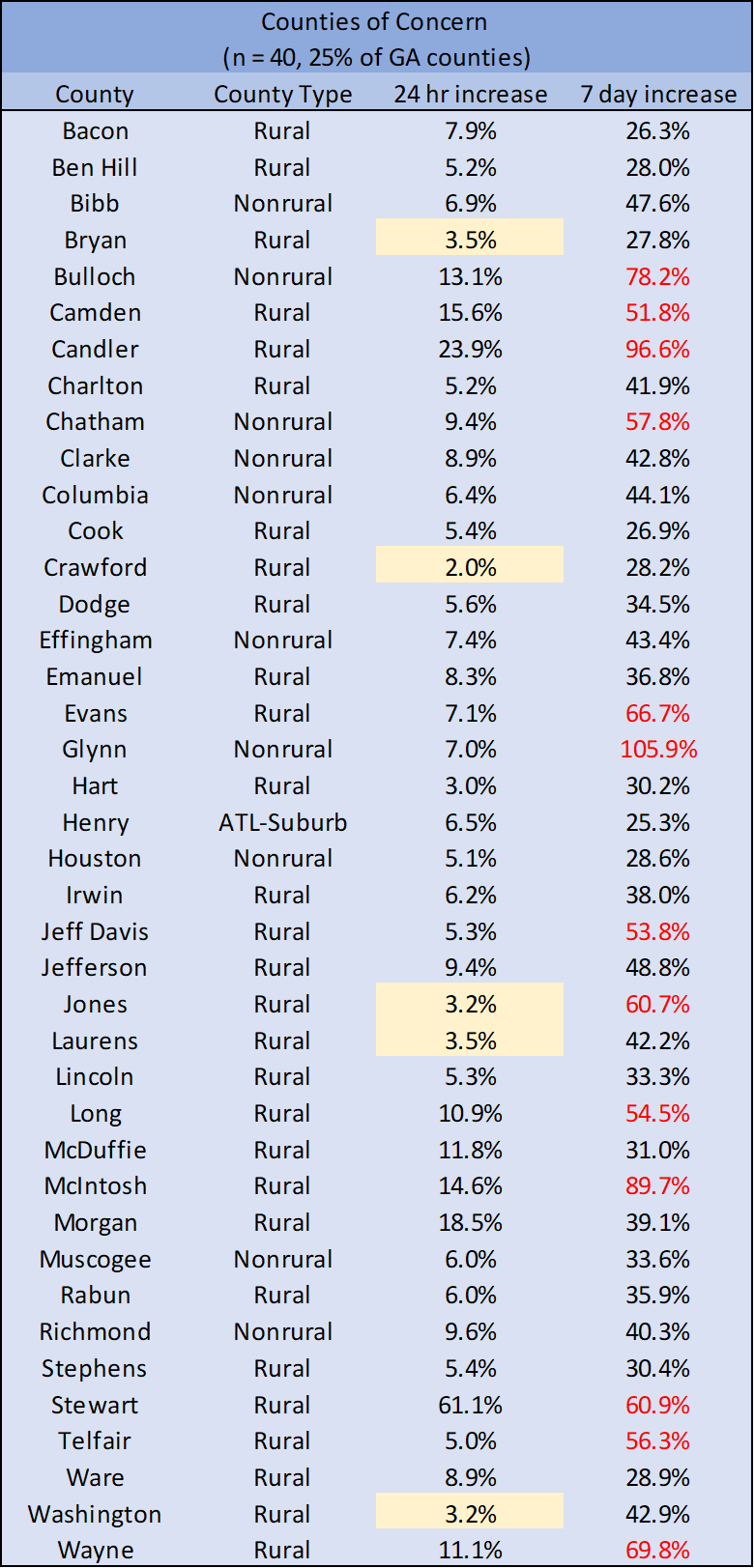 ---
Hospitalizations
Current hospitalizations increased but not by as much in the past few days. This may be because of delays in reporting of that information due to the holiday, or it could be real. We'll see with more time.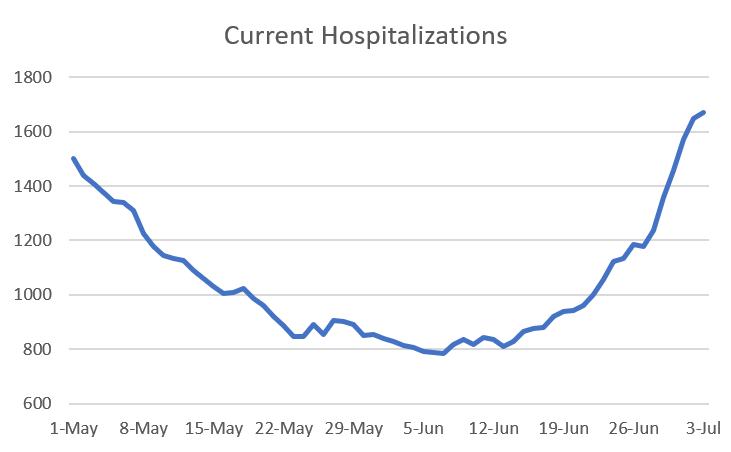 ---
Deaths
There were 7 new deaths reported today - a low day for us. Keep in mind that this could be a low end estimate - there are delays in reporting over holidays and weekends and nursing homes typically don't report their data over the weekends either. The new statewide total is 2856. Interestingly, and thankfully, the Atlanta counties of Fulton and DeKalb haven't had a death in three days. Six of the deaths came from nonrural counties not affiliated with the Atlanta metro.
---
References
https://dph.georgia.gov/covid-19-daily-status-report
https://www.facebook.com/GEMA.OHS/photos/a.118773726390/10158134843126391/?type=3&theater